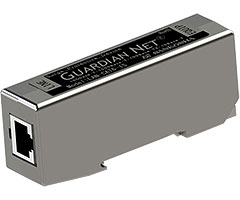 SPD (surge protective devices) for LAN protect equipment
RoHS compliant

LAN SPD to protect servers and computer network devices from lightning surge which enters the Ethernet.
Easy to install without grounding.

Applicable lines: 10GBASE-T(Cat.6), 1000BASE-T, 100BASE-TX, 10BASE-T
Transmission loss: Less than 2.0dB
Crosstalk attenuation: Less than 30dB
Impulse withstand voltage(1.2/50µs): More than 5.0kV (Between primary and second side)
Insulation resistance(DC 500V): More than 1000M-ohm (Between primary and second side)

*Cat.6A is not applicable.
Sort by selling qty
| Model No | Quantity | Price | Unit Price | SPQ | Ship date |
| --- | --- | --- | --- | --- | --- |
| LAN-CAT6-IS 1pc | 1pc | USD125.46 | USD125.46 | 1pc | 4week |
| LAN-CAT6-IS 2pcs | 2pcs | USD236.38 | USD118.19 | 1pc | 4week |
| LAN-CAT6-IS 4pcs | 4pcs | USD436.36 | USD109.09 | 1pc | 5week |